21Shares Terra (LUNA) Primer
This research primer is a guide to understanding Terra, a smart-contract platform. When referring to Terra, we mean the company as a whole, where LUNA is its native token. This research will explain what Terra does and its main use cases. It will delve into the primary methods to value LUNA and analyse the immediate risks of investing in Terra.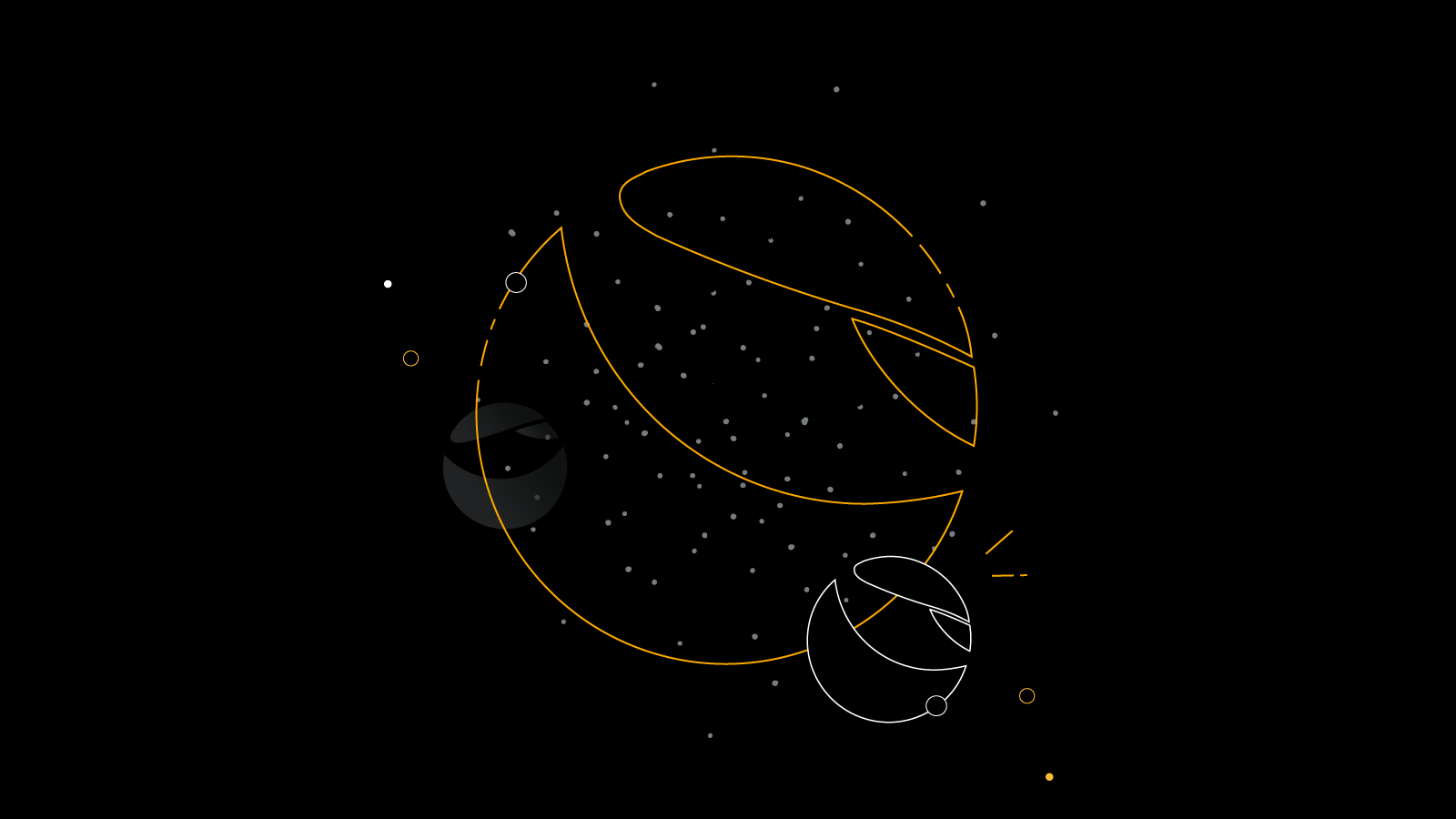 Executive Summary
Terraform Labs developed the Terra network in 2018 by Daniel Shin and Kwon. Kwon now acts as the company's CEO and is a former Microsoft and Apple software engineer. The company is funded by Binance, Arrington XRP, Polychain Capital, and Huobi Capital, to name a few.
Terra is a smart-contract platform and a network for algorithmically-pegged fiat-currency tokens. Built on Cosmos SDK and Tendermint Consensus, Terra's stablecoins offer instant settlements, low fees, and seamless cross-border exchange. The protocol consists of two main types of tokens, Terra and Luna. The primary function of Luna is governance and to protect the integrity of Terra by locking value within the Terra ecosystem through staking. Terra is the suite of stable coins that can be minted from burning Luna. For example, TerraUSD or UST is a stablecoin that tracks the USD. Luna algorithmically stabilizes UST. In short, the higher the demand for UST, the more significant the demand for Luna.
In this report, we will offer an exhaustive overview of the Terra network, LUNA as a crypto asset, and discuss the various investment risks associated with LUNA — in addition to how an investor can think about the future value of its underlying crypto asset. In addition, this report offers exhaustive coverage of Terra and LUNA available on the market.
How Terra Works
Terra smart contracts are enabled by CosmWasm's technology, are supported by Rust, Go or Assembly script and are capable of running on multiple chains connected by the Cosmos IBC or Inter-blockchain communication protocol. Tendermint Core is a blockchain application platform; it provides the equivalent of a web-server, database, and supporting libraries for blockchain applications written in any programming language. Like a web-server serving web applications, Tendermint serves blockchain applications. More formally, Tendermint Core performs Byzantine Fault Tolerant (BFT) State Machine Replication (SMR) for arbitrary deterministic, finite state machines. It is a blockchain network that allows for 10,000 transactions per second (TPS) with a transaction time of around 2 seconds. In contrast, Ethereum processes 15 to 30 transactions per second with over a minute finality.
5 basic principles revolve around blockchain technology, all of which LUNA is based on:
Peer-to-peer transmission: With Terra, intermediaries are circumvented entirely. Any participant can transmit LUNA to another participant with a digital wallet without bureaucracy, banks, excessive fees or delays. LUNA can be transferred among an unlimited number of people, instantly and simultaneously. Terra is inclusive, allowing for the billions of unbanked to participate in the global economy by becoming a participant without the traditional barriers to finance.

Distributed database: The Terra blockchain is a fully decentralized network in both its node distribution and voting power. Terra (LUNA) is a delegated proof-of-stake network (DPoS). This designation means that validators approve transactions and add blocks to the blockchain, with their efforts being rewarded in LUNA. Validator candidates can bond their own LUNA and have LUNA "delegated", or staked, to them by token holders. The Columbus Mainnet has 100 validators, but over time this will increase to 300 validators according to a predefined schedule. The validators are determined by who has the most stake delegated to them — the top 100 validator candidates with the most stake will become Terra validators.

Transparency: The Terra node repository is open sourced, permissionless and publicly available to anyone to audit, use, and build upon. There is no need to get the approval of any authority to use the Terra blockchain and execute transactions using LUNA. There are no gatekeepers and every participant can read every block and has the opportunity to write a transaction in a future block.

Recordkeeping: The blockchain acts as a ledger and keeps track of transactions. On Terra, once a block appears, users can immediately rely on the transaction it contains to be immutable. LUNA serves as collateral for Terra and powers its DPOS blockchain, to provide stability and security to the network as validators determine the authenticity of transactions and merge those transactions to form a block that is kept track of.

Computational Logic: The Terra blockchain is a proof-of-stake blockchain, powered by the Cosmos SDK and secured by a system of verification called the Tendermint consensus.

A validator called a proposer is chosen to submit a new block of transactions.
Validators vote in two rounds on whether they accept or reject the proposed block. If a block is rejected, a new proposer is selected and the process starts again.
If accepted, the block is signed and added to the chain.
The transaction fees from the block are distributed as staking rewards to validators and delegators. Proposers receive extra rewards for their participation.
This process repeats, adding new blocks of transactions to the chain. Each validator has a copy of all transactions made on the network, which they compare against the proposed block of transactions before voting. Because multiple independent validators take place in consensus voting, it is infeasible for any false block to be accepted. In this way, validators protect the integrity of the Terra blockchain and ensure the validity of each transaction.
The LUNA Token
LUNA had a genesis supply of 1 billion, it is distrubed as follows:
The stability reserve is used to manage the network's early stability and intervene with injection of LUNA where required. If demand increases rapidly, LUNA can be burned from the reserve to supply more Terra.
Terra can be pegged to many different fiat currencies and is available in the most popular ones already. UST, pegged to the US Dollar, has the biggest market cap and transaction volume.
For example, when there is high demand for UST, the protocol market maker offers an arbitrage opportunity by minting Terra. The demand will lead to an increase in the price of UST above $1 in the market and it will lose its peg to the US Dollar. Arbitrageurs can now trade in LUNA for Terra 1:1, allowing them to sell the newly minted UST for a profit at the above peg market price. LUNA, on the other hand, is partially burned and partially moved to the treasury pool.
This continues until sufficient supply has been introduced to bring UST back to its peg.
Compared to the expansion just described, the contraction works the opposite way, allowing arbitrageurs to buy cheap UST on the market and swap it 1:1 for LUNA. UST gets burned in the process. This will reduce supply of UST until the peg is back in place.
Contraction potentially introduces a lot of LUNA and will cause its price to drop. The aim of the Terra protocol is to grow via economic, real-world use. Holders believing in this will have to endure short-term volatility for long term growth of the ecosystem, adoption of UST and the increasing scarcity and thus price of LUNA.
Seigniorage is used to pay validators acting as exchange rate oracles, stability of the ecosystem and for fiscal stimulus. In the upcoming columbus-5 release, seigniorage will be burned.
Validators participate in determining the exchange rate to the fiat currency Terra is pegged to. An accurate vote is rewarded, inaccurate votes are penalised.
Transaction fees consist of gas fees and taxes. Gas fees are set by validators, to avoid spamming on the network. Taxes are set by the protocol and can be altered by votes up to a maximum of 1%.
Validators run a full node and sign transactions into a block. They are rewarded with fees from transactions, there is no inflation minting coins as reward for staking. Only the 130 validators with the largest stake are active and thus earn the reward from transaction fees. Not complying with safety and liveness rules, can result in penalties to the staked amount.
LUNA holders can delegate their LUNA to a validator to earn rewards (~10% APR) without the responsibilities of becoming a validator, contributing to the total amount staked by the validator. Validators will take a commission on the reward and pass only the remaining amount to delegators.
The treasury receives LUNA from seigniorage and can use it as fiscal stimulus supporting apps in the Terra ecosystem. How the treasury funds are used specifically is subject to proposal and voting of validators. The aim is to generate economic growth by supporting apps in the economy.
The State Of Terra
As of January 2022, Terra is the second largest ecosystem in crypto with $18.81 billion in total value locked (TVL). The Layer 1 first came to prominence in the DeFi space in early April 2021 with the launch of two prominent services, Anchor protocol — a lending and borrowing platform and Mirror — a synthetics assets protocol. Anchor Protocol managed to cross the $1 billion mark in TVL within just six weeks upon the launch. Their value proposition lies in the Anchor's interest rate, a fixed ~20% APR on UST, unrivaled in an otherwise highly volatile market. It provides investors with an accessible, stable, attractive and risk-off savings vehicle and is often referred to as the benchmark rate in DeFi. July this year saw the introduction of The Terra Ecosystem Fund raising $150m from renowned funds such as Arrington Capital, BlockTower Capital, Galaxy Digital, Pantera Capital, Parafi and others. The fund will direct capital to builders on the network and give them access to the resources of investors.
During the initial launch of Anchor, the only collateral option was initially the staking-bearing Luna called 'bonded Luna' (bLUNA) but the partnership between Anchor protocol and Lido announced in August 2021 to introduce staking-bearing ETH 2.0 tokens or bonded ETH (bETH) was a complete game changer. The protocol now intends to provide a stable yield for all UST depositors with supply side only accepting major liquid staking derivatives from major proof-of-stake (PoS) chains. Leveraging the advantages that the staking derivative from Lido, stETH (staked ETH) offers the partnership further unlocked the constraints of traditional staking, illiquidity, immovability and inaccessibility. The introduction of bETH, bonded Ethereum (wrapped stETH) on Terra as a whitelisted collateral option on Anchor Protocol, brought in staking rewards from outside the Terra ecosystem and drew a massive inflow of assets into the network. There are also plans to integrate bSOL and bATOM on Anchor as collateral assets.
Terra's most significant mainet upgrade, Columbus-5 in September brought about three major changes which captured greater value to the network. TIP43 dubbed the "Burn All Seigniorage" proposal was implemented with 100% of seigniorage burned instead of being routed to the community and staking reward pool. As a result, $1 worth of LUNA will be burned for every $1UST minted. The activation of IBC (Inter-blockchain communication protocol) also allowed the transfer of assets from Terra to other blockchains within the Cosmos ecosystem. The launch of EVMOS and Gravity bridge will further enable Terra greater connectivity to the Cosmos Hub and Ethereum.
On the cross-chain integration front, the launch of Wormhole provided extra support for Solana and Polygon, on top of Terra Bridge's existing on Ethereum and Binance Smart Chain. The launch of the bridge to Osmosis via Terra official Bridge's interface was also a welcomed addition for those less familiar with Cosmos. Secret network also announced in June their plans to implement upcoming bridging functionality to Terra. The presence of bridging infrastructure has consequently also increased liquidity on decentralized exchanges and the usage of UST, Terra's USD-pegged stablecoin on non-Terra chains.
The rate of new applications growing in the Terra Ecosystem in Q4 was astonishing; a few of them are mentioned here. The most significant addition was the launch of Astroport, in just seven days over $1.2 billion was deposited into the protocol from 23,379 unique wallet addresses. The protocol's unique token distribution and economic design with long lockup periods will also protect the protocol from any rapid outflows in the near future. Projects like Orion Money are also allowing access to Anchor's yield cross chain in a variety of stable assets.
Reviewing the performance of LUNA in the last year, the YTD growth recorded 13,036%, outperforming Ethereum by 12,766%. Validator staking APR is at ~8% with ~37% of LUNA staked and the network is currently supported by 130 distributed validators.
LUNA's intrinsic tokenomic design and its utility to mint UST as a stablecoin is undoubtedly the network's most bullish argument. Back in April, the launch of Mirror called for a sudden initial demand in UST, since then the network has been driving UST adoption across all DeFi verticals. The most significant recent driver of UST was perhaps was the introduction of the MIM-UST stablecoin pool on Curve. Planting this pool in the base infrastructure of DeFi stablecoin yields strategically positioned UST for future dominance but also re-ignited a debate on Curve bribes. Terraform Labs presented a proposal to increase incentives across Curve, Convex and Tokemak in attempts to deepen liquidity. UST demonstrated remarkable growth this year, far outpacing its competitors, UST market cap was at $182M in January. As of writing, UST ranks 4th in the stablecoin market capitalization at $10.34B with $206M daily trading volume behind USDT, USDC and BUSD.
Other current real world applications of the Terra network include:
Terraland- a global transaction platform that allows fractionalized real estate investment
PayWithTerra - an API gateway for merchants recently adopted by Amazon
CHAI- a payment product integrated with Samsung pay.
Buzzlink - a viral marketing product to scale social referrals
MemePay - a payment product used by 3% of the population of Mongolia
Kash - a neobank app for easy access to Mirror and Anchor.
The greater adoption of Terra's stablecoin UST by these merchants and the added volume of transactions by new protocols building in the Terra ecosystem, will see UST demand and consequently, LUNA''s fundamental value increase.
The Future of Terra
Evaluating network usage and the current ecosystem, Terra is still very much in its growth phase - Delphi Labs and Terraform Labs are the two main incubators on Terra. Part of the reason why so many new projects and protocols are launching in the next 2 to 5 months is due to the ease and efficiency of development tools and SDK kits.
The most distinguishing feature of Terra's application verticals are the quality of DeFi products being launched. This is unlike many other Layer 1 chains we have seen rise to prominence this year where we saw a spike in TVL growth due to unsustainable yield farms and OHM forks. Prime examples of this is Nyan on Arbitrum and Giest on Fantom. Terra's roadmap of upcoming applications include Mars protocol which will allow users to lend and borrow off DEX Liquidity Provider (LP) tokens, and White Whale, a delta neutral L1 seigniorage arbitrage platform and various derivative platforms like Levana. Although many applications are retail focused, it does represent a promising developer scene and set the standard for the future ecosystem.
Perhaps one of the biggest narratives for 2022 is the growth of stablecoin adoption. We saw unparalleled growth in 2021 with the supply surging by 388% from $29 billion to $140 billion. This was partly attributed to the growth of the derivatives market being settled in stablecoins and partly due to the attractive stablecoin yields in DeFi. With regulators hovering over Tether for USDT and Circle, the company behind USDC, the demand for a decentralized stablecoin has never been more apparent. Driving UST market cap in Q4 of 2021 was two of Terra's proposals 133 and 134 which called for 88.67 million LUNA to be burned to mint UST. Part of the UST will be used to fund Terra's insurance protocol, Ozone to provide investors with greater assurance. It is clear that TerraForm Lab's strategy over the next year is to drive UST adoption through all verticals, particularly to outside its own ecosystem, casting a much wider net for its Total Addressable Market.
Fiat onramps is consistently the point of greatest friction for DeFi users and so the availability of these channels will be key to Terra's adoption. The existing integration of real-word payment applications such as Kash's prepaid debit card and savings account utilizing Anchor's high interest rates will onboard the next generation of non-crypto native users.
After the successful launch of Columbs-5, a governance vote manually initiated Inter-Blockchain Communication Protocol (IBC) functionality. The suite of application-specific blockchains using Tendermint consensus built on Cosmos SDK will continue to utilize this functionality to operate synchronously and fully take advantage of sovereign blockchains. Cosmos Hub, Secret Network, Akash, Thor chain, Kava and any future IBC-enabled chain will have their flood gates open to UST liquidity. For those who are concerned with privacy, the use of sUST (Secret Network UST) can serve as a private stablecoin. The distribution of shuttle UST across chains using bridges like Wormhole can potentially cause UST fragmentation, Terra will have to manage this efficiently to ensure liquidity markets continue to operate in a capital efficient manner.
Valuing Terra
A quantitative and qualitative evaluation of a crypto asset's intrinsic value can be derived from a few key fundamentals. Market sizing, total value locked, and network fees can be used to address any discrepancies between the network's current value and token price.
There are two ways we can think of the potential value of Terra's native asset, LUNA. The first is carrying out a market sizing exercise to compare its value to that of its main competitors as its target market. Secondly, we can compare Terra's current adoption — through the proxy of fees paid on the network — to that of Ethereum in order to understand if the current value of Terra can be justified whether there's product-market fit.
Market Sizing:
The chart below shows the current market capitalization of Solana, Terra, Polygon and Avalanche. Avalanche and Solana are networks that similarly experienced substantial growth in Q3 of 2021 and serve as comparison for ecosystem development. Despite being the leading chain on Cosmos, Terra's price behavior is similar to that of Ethereum back in 2016-2017; pre- bull run. Along with the fundamental growth drivers, in addition to the technical capabilities of Terra we believe that Terra has yet to reach its full potential.
Total Value Locked
This section compares the current TVL of Terra relative to other major networks such as Ethereum, Avalanche, Polygon, and Solana. TVL can be a useful tool to compare network utilization and a method to measure the flow of capital within DeFi. As the number of innovative apps grow and evolve on the Terra network, we can expect TVL to grow.
Fees
Revenue generation is often a key metric when assessing network value. By assessing the total number of transactions and the average cost per transaction we are able to estimate the total revenue generated. Fees are a good signal for the overall demand for a given smart contract platform and arguably the strongest barometer of fundamental growth. However, we must also take into account networks with low transaction fees like Terra or Polygon, where revenue generation may not be the most accurate indicator of network performance. Terra's estimated annualized revenue is $5.33 million compared to Ethereum's annualized revenue of $20.75 billion. Along with greater network usage by DeFi applications, greater institutional adoption, and real world use cases mature, we can expect the number of transactions to exponentially increase, and with it, revenue derived from fees.
Price-to Sales (P/S) Ratio compares a protocol's market cap to its revenues. Unlike the Price to Earnings ratio, where inflated token prices can be inaccurately depicted, P/S ratio derives the network's value from tangible revenues. This metric is particularly useful for early-stage protocols where income is often reinvested into growth. A low ratio could imply that the protocol is undervalued and vice versa.This chart indicates the P/S ratio for other blockchains in comparison to Terra. The chart depicts Terra's P/S breaking away from comparison Layer 1 chains at the end of September, supporting investor speculation of the network's anticipated performance.
Risks
Technological risks
Most recently the Oracle price feeder registering bonded Luna price on Anchor protocol reported significantly lower than on exchange causing 239 erroneous liquidations worth $37.2 M. A second discrepancy occurred shortly thereafter causing another 3 liquidations. In the aftermath of the event a new price feed structure was proposed to migrate the price feed to Chainlink price oracles.
Total elimination of smart contract risk is non-trivial, proactive defenses need to be built and black swan events considered to minimize systemic risks. The decentralization of the network consensus will also not solve any problems on the application layer. A bug bounty program is in force on Luna and an audit was performed by Certik. According to Messari, the protocol had a possible DDoS vulnerability in April 2020.
Luna price is tied tightly to its demand for its native stable coin. Although this is one of the strengths of the ecosystem it can also be one of its greatest weaknesses. In a perfect system where market economics acts as they should, Luna's tokenomics is fundamentally sound. However, during periods of mass liquidations or flash crashes causing large and drastic movement in the market, UST will struggle to maintain its peg. We saw this on May 19th where the price momentarily dropped to 0.973 and spiked up to 1.02.
Miners absorb Terra contraction costs through mining power dilution in the time of volatility, unlike normal miners. The system incentivises miners to work towards long-term stable rewards and Terra growth despite volatile markets and extended periods of market contraction. Stress test simulations in the Terra whitepaper demonstrate long-term stable mining rewards, the biggest unpredictable risk for miners. Although the architect of this design deserves merit, it overlooks the nature of participants in the crypto market, most frequently looking for the highest gains in the shortest period of time.
Regulatory risks
Regulator risk is a concern with any protocol which uses synthetic fiat currencies. Monetary sovereignty has been a consistent topic of discussion in the last few years. The Financial Services Commision (FSC) announced changes to regulations to South Korea's anti-money laundering laws to include crypto exchanges in mid-2021.
In November 2021, the SEC filed a subpoena enforcement action against Terraform Labs and its CEO, Do Kwon to comply with investigative subpoenas for documents and testimony. The investigation was brought on by Mirror protocol and the nature of its synthetic assets. It is important to note that the filling was for 'a fact finding investigation and as of yet it has not concluded that any individual or entity has violated the federal securities laws.
As the regulatory landscape changes in the coming years, it may have an impact on UST and therefore Luna. Furthermore, if the US decides to crack down on non-US-based stablecoin issuers and services offered to US citizens and residents, UST adoption will fail, negatively affecting Luna price. Such a crack down, could influence other Western countries to follow suit.
Business risks associated with the Terra ecosystem is adoption of the wider international market beyond Korea. Several competing merchant solutions currently exist in different markets and so this is also a consideration in the process of international expansion.
Disclaimer
This report has been prepared and issued by 21Shares AG for publication globally. All information used in the publication of this report has been compiled from publicly available sources that are believed to be reliable. However, we do not guarantee the accuracy or completeness of this report. Crypto asset trading involves a high degree of risk. The crypto asset market is new to many and unproven and may have the potential to not grow as expected.
There is currently relatively little use of crypto assets in the retail and commercial marketplace compared to relatively large use by speculators, thus contributing to price volatility that could adversely affect an investment in crypto assets. In order to participate in the trading of crypto assets, you should be capable of evaluating the merits and risks of the investment and be able to bear the economic risk of losing your entire investment. Nothing in this report does or should be considered as an offer by 21Shares AG and/or its affiliates to sell or solicitation by 21Shares AG or its parent of any offer to buy bitcoin or other crypto assets or derivatives. This report is provided for information and research purposes only and should not be construed or presented as an offer or solicitation for any investment. The information provided does not constitute a prospectus or any offering and does not contain or constitute an offer to sell or solicit an offer to invest in any jurisdiction.
Readers are cautioned that any such forward-looking statements are not guarantees of future performance and involve risks and uncertainties. Actual results may differ materially from those in the forward-looking statements as a result of various factors. The information contained herein may not be considered as economic, legal, tax, or other advice and users are cautioned against basing investment decisions or other decisions solely on the content hereof.
Every month our research team publishes world-class, data-driven reports about the crypto industry. The following are among the most popular this month.